2020 Youth Reflection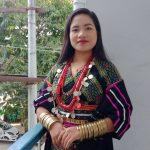 Sayamah No Sin Tlem
My name is No Sin Tlem. I am 23 years old. I live in Yangon.
I grew up from Christian background.
I knew God and believed in Him since my childhood
through the teaching of my parents and my Sunday School teachers.
This year is my blessed year although Covid-19 is happening
around the world including at our country.
I can't go outside to waste my time because of this Covid-19 pandemic.
But do not feel boring because of our community.
God gives me this good and kind community.
I spent a lot time to read the Bible.